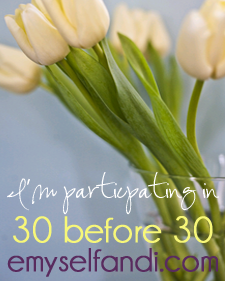 Happy six-month anniversary to the original 30 Before 30 list over at emyselfandi.com! To celebrate, E herself is asking for an update on our lists. Here's where my list stands today:
1. Get totally out of debt, except the mortgage
2. Save six months' worth of living expenses
3. Run a half marathon in a cute running skirt

4. Run a shorter, family-friendly race with Ben in a stroller -
(Daniel and I walked a 5K with Ben, but I'm thinking that doesn't count.)
5. Take a family vacation (just Daniel, me, Ben, and any future babies) to a fun city
6. Finish Ben's baby quilt -
(I am totally ashamed that this one isn't done since my baby is barely a baby anymore.)
7. Take some sort of class just for fun
8. Read 25 books in one year
-

(I'm up to 17 since April.)
9. Get a makeover and buy the makeup

10. Shoot a real gun
11. Clear the junk out of our back flower beds and replace it with something edible (tomatoes, peppers, piles of Snickers bars? I don't know)
- DONE! My garden was a mild success. I harvested bunches of squash and zucchini, several Roma tomatoes, and a few green bell peppers. I have three cantaloupes that should be ready any day now. The strawberries and blueberries were total failures.
12. Paint the inside of our house -- no more white walls

13. Have a bright red front door
- DONE! And I love it. See it here.
14. Make a surprise visit to my parents
15. Memorize a book of the Bible and still remember it a year later

16. Eat out zero times for a full month
- DONE! We ate all our meals at home in May.
17. Beat my friend Susanna at a game of Scrabble
18. Take Ben's picture by something pretty at my alma mater
-
DONE! Check out some of the pictures here.
19. Spend a day at a spa
20. Pretend to be Donna Reed for a day
21. Organize the garage to my satisfaction

22. Go snow skiing
24. Make a pretty cake from scratch

25. Host a tea party (the scone-eating kind, not the political kind)
26. Climb the Manitou Incline
27. Come up with an acceptable system for organizing my recipes
(I've tweaked my system, but I'm not thrilled yet.)
28. Throw my
husband
a spectacular 30th birthday party
30. Watch the
Balloon Classic
in Colorado Springs -
I'm calling this one at least 50% DONE! I didn't make it to a morning balloon launch this year, but I did go with my fam to a Balloon Glo one night. It looked like this:
Clearly, I have quite a ways to go, but I'm happy I have any progress to show at all! By my very accurate calculations, my list is 18.33% complete. Check out other folks' updated lists and post your own here.